During my sock hiatus, my hands were almost screaming to knit something! As a gift from our Knitting in Alexandria "bunny swap" last month, I had received a hank of some delicious Fannie's Fingering Weight yarn in colorway "Chocolate Covered Cherries". (you remember this one ... I originally CO a
Clapotis
using it, but then frogged it) Well, I love pink and this yarn feels divine - 80% merino, 20% nylon - it would make luxurious socks!
This generous gift is turning into my latest wip ... what I call my "Cherry Cupcake Summer Shrug".
Here she is, basking in the sun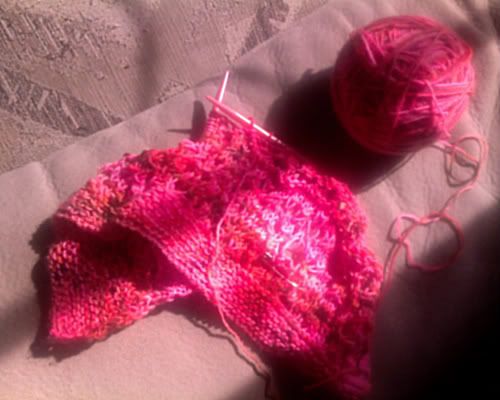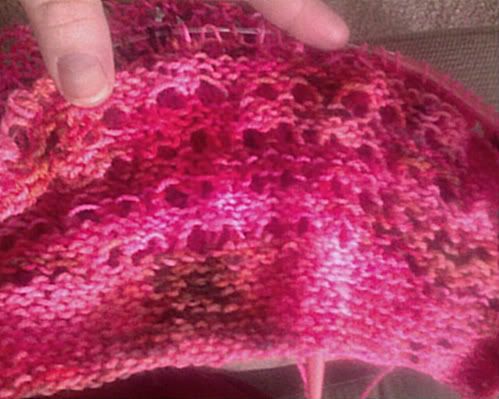 And sometimes the unexpected happens when you're not looking.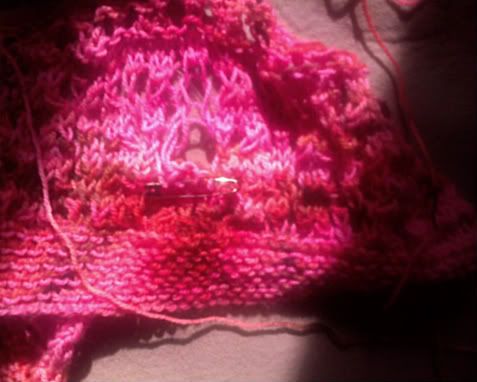 Yep I'm uncertain what exactly happened on Saturday evening. I had been KIP on the Metro, gaining progress and happy to be representin'. I picked it back up at home when I had time to myself, completed a few more rows, and stood back to view my handy work and .... bam!, a ladder unraveled right in front of my eyes! I let loose the movie epic "Noooooooooooooooooooooooooooooooooooooooooooooooooooooooooooooooo!" and did what I would to save a few loops on a safety pin. So, it's not "perfect", but it's mine.
Being me, I refused to frog back and rework it. With some thread and after blocking, I have hopes I can make it seem like not a single thing went awry.
The lesson? Yeah it's
just
yarn. But it's my yarn ;)