I apologize for not adding text to this post sooner! It's been just over a week since the happy occasion of one of my goddaughters getting married. (I say "one" because she's a twin!) Jessica Lyn married her longtime boyfriend, Mike, on the 7th. it was an intimate, semi formal affair at the Benecia Yacht Club. They said their "I dos" right on the marina.

I'm not usually one for needing a tissue at weddings but, watching "my little girl" get hitched, had me wishing for a hankie!

Mike, Jessica and Molly-Fae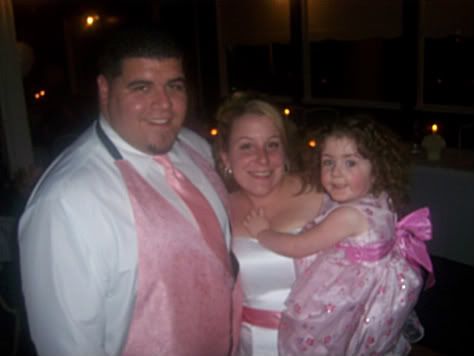 Pink Lady Fingerless Waffle Mitts
I knitted the Pink Ladies months ago with no real idea who they'd eventually go to. After much musing (and agonizing) over what to give Jess as a wedding gift, I decided to embroider them, and make them hers.
The left glove has a "J" with a flower. The right glove has the stars seen with the naked eye in the constellation "Casseopeia".
A random shot of my shoes and favorite Kathy Van Zeeland bag. (thanks mom!)